Let's Play Pokemon Diamond!
A Screenshot LP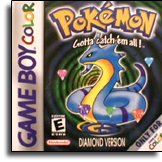 Ah, good old Pokemon -wait, what?
Title Screen Music
Repost from after the Scratch!
Anyways! For those who do not know, there are a pair of old GBC games called 'Pokemon Diamond and Jade'. They're infamous for their talk of curry and random swearing and hilarious engrish!
Said games are really badly pirated and translated games called 'Keitai Denjuu Telefang', which was another monster-collecting+fighting game that was only ever officially released in Japan (it also got a Japanese-only sequel). But said piraters tried to pass their poorly translated works as Pokemon games, completely with box art and a different title screen! Within the game though (bar it being in
English
Engrish and having the odd problem with saving in cases) it was simply the Telefang game, with no Pokemon to be found inside.
'Pokemon Diamond' was the 'Power version' of Telefang, while Jade was the 'Speed version'. (I don't believe they're referring to
that
sort of speed, but...). Well, have a Telefang box art pic:
But it's not a bad game - some tough battles, frustrating mazes, catchy music and very entertaining engrish - what's not to love? ;p
I've decided to replay this game - I actually had a game pak with this as a kid which provided me with many, many hours of confusion. Hope you enjoy it too!
Note I'll throw up tunes when they come up in the game via sound clip player windows! Press play to, well, play, and if it lags it's not my fault.
Warning - swearing is abounds in this game in some stages. But it's engrish swearing so it's all good! ;p
Part One - Down the Rabbit Hole!
Or part of the long intro sequence in which a lot of baseballs happen.
By TwilightBlade of PC. =D