22nd Feb 2015, 05:32 AM
Post: #1
Fairy
Junior Member


Posts: 1
Joined: 22nd Feb 2015

PokéDollars: 53円
Hi there!
Hey!
I'm Fairy; and I had this forum recommended to me by Bobandbill on another website! I have both seen and heard wonderful things about this forum's art sections and fandex, and I'm very excited to begin participating. I'm an artist at heart, enjoy the simple things like Pokemon, and (while I might not be the busiest of bees around the forum), I'm definitely enthusiastic about seeing everything this community has to offer. :)
I'm sure I'll repeat myself a few times but it's awesome to meet you guys!
also hi slayr
22nd Feb 2015, 12:34 PM
Post: #2
Camisado
Token British Administrator


Posts: 299
Joined: 2nd May 2009

PokéDollars: 387円
RE: Hi there!
Hello Fairy - thanks for joining us, I'm sure you'll fit right in!
Let us know if you have any questions, we're all more than happy to help!
---
✖
Camisado
✖
The BBS
Host & Admin ✖ @
The_BBS
is on Twitter! ✖
✖ Hosted in the UK by Evohosting ✖ Network home page ✖ Extended personal profile ✖ Tumblr ✖
22nd Feb 2015, 01:56 PM
Post: #3
bobandbill
Global Moderator


Posts: 1,581
Joined: 21st Sep 2009

PokéDollars: 2,529円
RE: Hi there!
Hi there! Nice to see you join up. =) Welcome to the forums and also the fandex which is what you are interested in, haha.
---
By TwilightBlade of PC. =D
22nd Feb 2015, 06:31 PM
Post: #4
RE: Hi there!
Hey, Fairy! I think I know which website you mentioned (bobandbill and I go to a few same forums together haha). Enjoy your stay!
---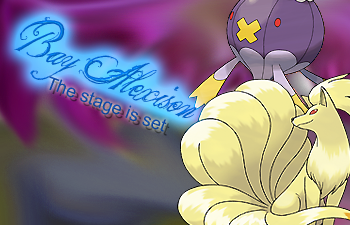 "Now my friends, I think this calls for a toast. We're embarking on something truly great here. Be prepared for what's coming."
[

Avatar

found image at LJ] [

The Black Cat's Stains:

My gallery] [

The Ruin Maniac

: My ASB-Neo Trainer Profile]
[

Nothing, Everything

and

Heart of the Sea (coming soon):

My stories]
22nd Feb 2015, 08:16 PM
Post: #5
Jax
Global Moderator


Posts: 334
Joined: 2nd May 2009

PokéDollars: 686円
RE: Hi there!
Yo, Fairy! Nice to meet you. :D

Good timing, by the by. We love creative types of all kinds here, but peeps who populate our new Fandex with fanart would rock our socks. Looking forward to checking out your art~!
---
Holmes:

Punch me in the face.


Watson:

Punch you?


Holmes:

Yes! Punch me! In the face! Didn't you hear me?


Watson:

I always hear "punch me in the face" when you're speaking, but it's usually subtext.
-

Sherlock

, "The Scandal in Belgravia"

The girl responsible for this atrocity to mankind. And this one. And these
User(s) browsing this thread: 1 Guest(s)