I'll begin by breaking people's hearts by pointing out this is arcade only rn. :V
- 'POKKEN TOURNAMENT'
- Pokemon fighting game announced, 2015 release
- Basically that previously rumoured/hinted Pokemon Fighters thing.
- Producers of Tekken 3 and Soul Calibur involved.
- Seems it may be arcade only. Probably Japan only as a result! HOWEVER: 'In answering questions, it was implied that there may be non-arcade release later since it is said to come first in arcades' (serebii.net).
- The live stream announcement via a japanese streaming site showed a clip of Lucario and Machamp fighting.
Video: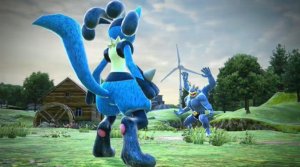 By TwilightBlade of PC. =D