Already! Well, to be fair 5th gen had its one from the get go (Victini), but I'm still surprised it already got revealed.
Welcome to Diancie, a Rock/Fairy Type!
From serebii.net:
Quote:The next batch of CoroCoro information has been posted to Japanese forums and this batch showcases more information. In this image, Pokémon #719 is revealed. As previously known due to leaks, this Pokémon is called Diancie. It is a Rock/Fairy-type Pokémon and it stars in the movie now titled Cocoon of Destruction & Diancie (破壊の繭とディアンシー). There are no details on its distribution at this time. We're currently in the process of translating, so keep checking back.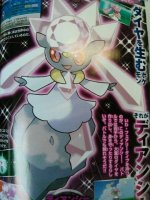 It shares something in appearance with Carbink.
By TwilightBlade of PC. =D