26th Jan 2014, 01:40 PM
(This post was last modified: 4th Feb 2014 01:46 AM by MinotauroTKO.)
Post: #1
Favourite anime
Random as question, but what are your guys top 5 or 10 favourite anime?

For me...

1. One Piece
2. Hajime no Ippo series
---- huge gap here ----
3. Dragon Ball series
4. Attack on Titan
5. Naruto series
6. Black Lagoon
7. Fate/Zero
8. Hellsing Ultimate
9. Death Note
10. Bleach

One Piece is easily my favourite anime by far. It's on a whole another level compared to any other anime imo - also it's awesome to note that it's been the #1 selling manga in Japan for many years BY FAR and the best selling manga of all time in Japan. The characters, storyline, themes, fights are just way too awesome. It's also very emotional - many manly tears will be shed, no doubt.

Hajime no Ippo just motivates me. Damn it's awesome. It shows you that dreams can come true, if you work hard for it. The fights are sick.

Dragon Ball is just epic. My favourite childhood anime. Too many epic moments. Trunks turning Super Saiyan and ruthlessly killing Frieza was the best.

Attack on Titan is sick too. I really love the storyline and the fights. The use of MMA in their fights just takes things to a whole another level - it has the best fights I've ever seen in anime, up there with Hajime no Ippo. The use of MMA in Female Titan vs Eren and Armored Titan vs Eren was just sick.

Naruto is Naruto. Just too awesome. lol. Not much needs to be said, pretty much most people have seen Naruto these days.

Black Lagoon. Luvdisc I LOVE THIS ANIME!! It's not much in the storyline department, but the pure badassery. Oh my god, the characters in this anime are just way too badass and awesome. A very tough, violent, bloody, brutal and awesome anime.

Fate/Zero is epic. The OST is epic as Luvdisc and the whole storyline is nice, dark and awesome. Also has some pretty badass characters, but not near as badass as Black Lagoon. (the most badass anime I seen lol)

Hellsing Ultimate. Blood, gore, people die in the worst ways, insane priests, Nazi vampires, insane Nazi leader, badass vampire protagonist, badass sidekick vampire protagonist, more blood, what's not to love?

Death Note. I loved the mental war between Light vs L. I love the fact that it has a justice theme to it.

Bleach has great battles. The storyline was epic up until the end of the Soul Society arc. But after that, it fell downhill imo. Still an epic anime though.
---
"Hotel Moscow will not forgive anyone who is involved in obstructing our operations in any way. We will denounce and destroy them, then kill their parents and siblings. If necessary, even their pet dog." - Balalaika (Black Lagoon)
26th Jan 2014, 08:04 PM
Post: #2
RE: Favourite anime
My top ten:

1) Anyone who follows my Tumblr know I love Fullmetal Alchemist: Brotherhood. Many of the characters are awesome and have great development. There's also conspiracy theme plot that keeps you hook. There is also the 2003 Fullmetal Alchemist version, but I don't recommend seeing it as I have several problems with it, haha.

2) Another anime I really enjoyed was Psycho-Pass. The theme is quite similar to the movie Minority Report (a system that determines if you're a criminal or not) and the characters are great. There are some warnings, though.



4) Gosick is another anime I enjoy. The first half has the two main characters solve different cases while the second half has a plot related to the female protagonist's backstory. The interactions between the leads are cute.


5) I also agree Attack on Titan is great too. Neat fight scenes, some of the characters are awesome (I'll keep defending Hanji and Armin, lol). Disappointed on the last two episodes though as the anime dramatically changed the characters and scenes at the end, urgh.

6) Death Note. I enjoy it the reasons MinotauroTKO already stated.

7) Cardcaptor Sakura. Another magical girl series. I like it a lot when I was younger and thought she was a good character. Her friends are great, too.

8) Baccano! An anime set in 1930s that has alchemists, thieves, mobster gangs, and immortals. Yup you heard right.

9) Ouran High School Host Club. I thought it's a cute and funny high school anime. The live action version is great also.

10) C: Control (The Money and Soul of Possibility). It's an anime that mixes Faust with money/economics. The main character gets offered a chance to get some money, but he'll need to go in this virtual reality kind of place and battle against other people I love the Faust story and I studied economics when I was in university, so it held my interest.
---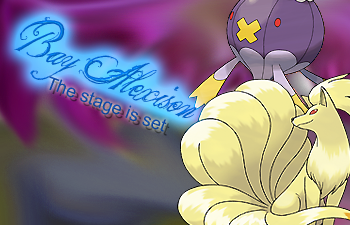 "Now my friends, I think this calls for a toast. We're embarking on something truly great here. Be prepared for what's coming."
[

Avatar

found image at LJ] [

The Black Cat's Stains:

My gallery] [

The Ruin Maniac

: My ASB-Neo Trainer Profile]
[

Nothing, Everything

and

Heart of the Sea (coming soon):

My stories]
27th Jan 2014, 11:50 AM
Post: #3
Latios
Supersonic Psionic Chameleonic Eonic


Posts: 198
Joined: 2nd Dec 2009

PokéDollars: 365円
RE: Favourite anime
Hmm. This is a tough question, because I like a lot of anime for different reasons. I'd say some of my top favorites, in no particular order, would be:
1. Gurren Lagann. The pacing is a little wonky at the beginning, but the characters are great and it's simply got the best plot ever. Giant robots powered by fighting spirit. Yes please.
2. Time of Eve. This is a little six-episode gem about robots and humans coexisting in society. It's hilarious, heartbreaking, thought-provoking, and pretty much perfect in every way.
3. Great Teacher Onizuka (GTO). Two words: dem faces.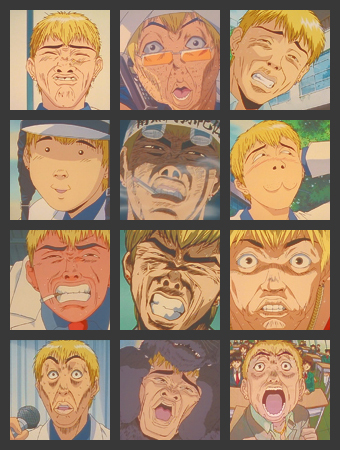 There's probably more but I can't remember right now.
---
Δ
3rd Feb 2014, 05:05 AM
Post: #4
RE: Favourite anime
Alright, what the hell, this is a Pokemon website! How are people not mentioning Pokemon, my all time favourite show? Heck, it the only anime I actually watch!
3rd Feb 2014, 06:46 AM
Post: #5
RE: Favourite anime
(3rd Feb 2014 05:05 AM)

Richard Fightmaster Wrote: Alright, what the hell, this is a Pokemon website! How are people not mentioning Pokemon, my all time favourite show? Heck, it the only anime I actually watch!
LOL for me the Pokemon anime is cool, but when compared with the likes of One Piece, Attack on Titan, Death Note, Hajime no Ippo, Hellsing Ultimate, Fate/Zero, etc, then yea lol.
---
"Hotel Moscow will not forgive anyone who is involved in obstructing our operations in any way. We will denounce and destroy them, then kill their parents and siblings. If necessary, even their pet dog." - Balalaika (Black Lagoon)
3rd Feb 2014, 08:47 PM
Post: #6
An-chan
Senior Member


Posts: 620
Joined: 20th Sep 2009

PokéDollars: 1,100円
RE: Favourite anime
My favorite animes are as follows:
1)
Fullmetal Alchemist: Brotherhood
To be perfectly honest, I haven't quite finished watching this anime yet, but the manga is the best one I've ever read, and so far the anime has kept me firmly in its grasp. (Like, 10 episodes a day kind of grasp.) This series contains one of the most epic plots, some of the best characters, and some of the most thought-provoking content I've ever encountered in the world of manga/anime. Also, the saddest death - makes me cry every time. It has the best balance of action / plot / character development / romance out of almost anything I've read. I will never not love this series.
And, like Bay, I have some serious issues with the older Fullmetal Alchemist anime, which basically starts out potentially even better than Brotherhood, but rapidly deteriorates into a stinking mess not even Arakawa herself could salvage. And then Nazis, somehow. I don't even. Just, don't watch it.
2)
Suzumiya Haruhi no Yuu'utsu AKA The Melancholy of Haruhi Suzumiya
I have a tendency to love character-driven stories, and this is precisely one of those. It doesn't even have that much of a plot, but the characters - Kyon, Yuki, and Haruhi especially - are so compelling that the series is so very worth it. And the premise is amazing: Suzumiya Haruhi has the power to alter reality to suit her wishes, but
she doesn't know it
. So, when she recreates the universe so that espers, aliens, and time travelers are real, she doesn't even notice when they start to flock around her. It's an awesome series, and everyone should watch it.
3)
Robotics;Notes
Realistic giant robots, massive conspiracies, a dash of future slice-of-life, and a set of high schoolers with unique personalities on a smallish Japanese island. Robotics;Notes starts a bit slow and boring, but by the end of it, your head will be spinning, in the best possible way. It's an amazing series. Go watch it.
4)
Nodame Cantabile
This is a series about an eccentric but supremely talented music student who has no ambition, and of a guy who finds her and has ambition to spare. It's a very realistic (read: zero action) story of finding your calling and place in world, falling in love, and working hard for your goals. Definitely not for everyone - for reference, it's classified as josei - but I really really like it, personally. Also, amazing music, haha.
5)
Shakugan no Shana
A pretty awesome three-season anime about a girl who fights beings who feed on the existence of people - as in, they eat you, and it's as if you never existed in the first place - and a boy who finds out that he has already been eaten. He ends up joining the fight, and then crazy conspiracy stuff happens and stuff explodes and the plot goes insane, and it's all totally awesome!
6)
Toshokan Sensou AKA Library Wars
Japan has turned into a society in which censorship has become an all-out war between libraries (local government) and the central government. As in, literally. There's helicopters, conspiracies, machine guns, battles, rigorous military training, and military ranks. It sounds absurd, but it's really well done and a really cool series.
7)
Princess Tutu
It starts out as your average magical girl anime about a duck who turns into a girl and then Princess Tutu to help a prince. But it's really not what it seems at first. This show rapidly develops into a compelling show with an intricate plot (conspiracies!), complex characters, and so much fourth wall breakage it's kind of insane. As in, the person who wrote the story is a character within it himself. It's classified as a meta-fairytale, if that explains it any better.
8)
Mahou Shoujo Madoka Magica
There's magical girls and a fluffy sidekick. Then things get creepy. Don't expect to watch this show and feel happy simultaneously...
9)
Azumanga Daioh
The funniest yonkoma (basically a joke strip comic), and the funniest anime. I laughed out loud 80% of the time while watching, or something. It's also some extremely trippy humor, so not for serious people! Basically, the entire series is just a bunch of jokes about a bunch of high school girls, and none of it is serious at all. There's no action, no actual plot, not much character complexity... And yet you watch all 24 episodes and yearn for more at the end.
10)
Ouran High School Host Club
A really, really funny romantic comedy anime. It's cute, it's heartwarming, it's funny. What more do you need?
Number eleven would be Bleach or Naruto for me. I couldn't decide which would go there, so I just stopped at ten and decided to give both honorary mentions instead, lol.
I agree with MinotauroTKO with regards to the Pokémon anime. It's cool enough - the first season, anyway, since I never watched any more of it - but it's not by far the best anime I've ever seen. I haven't watched it in years. It gives me a nice sense of nostalgia, but these days all the voice actors are different, and it's otherwise gotten a bit boring for me. So, I'll watch it for nostalgia, and cool Pokémon battles... but for plot/epicness/character/other purposes, it's something like FMA or Robotics;Notes all the way.
(I also really like conspiracies, if that wasn't clear by now...
)
---








-

The Sentret Moderator

-
- Reads, writes and draws -
- The resident fan of Sentret -
- Also in charge of some stuff -

4th Feb 2014, 01:50 AM
Post: #7
RE: Favourite anime
I really gotta continue with FMA: Brotherhood. LOL. It was on hold for now, but I'm gonna continue watching it before school hits for me. lol

and idk why but I love having Nazi's in my anime lol, as long as they get slaughtered. Black Lagoon and Hellsing Ultimate - if you want to watch Nazi's die in the most brutal of ways, check them out!
---
"Hotel Moscow will not forgive anyone who is involved in obstructing our operations in any way. We will denounce and destroy them, then kill their parents and siblings. If necessary, even their pet dog." - Balalaika (Black Lagoon)
User(s) browsing this thread: 1 Guest(s)